Over a decade of experience in the locksmith industry, We provide professional locksmith service, Trusted, Reliable, Friendly and above all Honest. Call now if you need assistance with your locks.
Over a decade of experience in the locksmith industry, We provide professional locksmith service, Trusted, Reliable, Friendly and above all Honest. Call now for your neighborhood locksmith Encino.
Mobile Locksmith Service, 100% SATISFACTION GUARANTEED
Grade 1 Locksmith Encino offers full warranty on any service we provide. Choose our trusted service and ease up your concerns. We offer warranty on all repairs unless the customer was informed otherwise before any work was done. Additionally we also offer 1 year warranty on all parts sold and installed by us. We back our work and strive for 100% customer satisfaction. We want you to know that when we fix your locks you are covered. Warranty applies only to the specific problem that we repaired.
Locksmith Service San Fernando Valley
Grade 1 Locksmith brings forward an array of professional locksmith services. With years of experience in the locksmith industry, our teams of experts provide the most trusted and skilled solutions for all of your lock problems.
From lock changes, new and improved lock installations, lockout services, to automobile lockout facilities, we have a range of emergency solutions to all your issues. Now, your trusted Locksmith In Encino is just a call away.
Car Lockouts And Auto Locksmith
Avail Exclusive Automotive Locksmith
We been providing years of reliable and professional automotive locksmith services for citizens. Each member on our team has the necessary skill to carry out the most intricate automotive procedures with the most advanced tools in the industry today.
We are a fully licensed, bonded as well as insured entity, giving you the care and satisfaction you deserve. No matter what time or day it is, we are by your side in times of crisis and need.
All of the professional experts can swiftly navigate their way into getting the desired solutions you need, at that particular destination. Whether on the road, at home or in office –trust us to get to you quickly and bring out the most effective answer to any automotive problems.
This includes lockouts in the middle of the night, lock changes, car key retrievals or car key replacements where emergencies are dealt with sheer dedication and utmost professionalism. For all of your everyday problems, you can select an appointment that best suits your convenience.
Avail 24 Hours Mobile Locksmith Services
Grade 1 Locksmiths have been serving the Encino community with devotion and great passion. This has led us to the point in time today, where our expertise is renowned across the state.
We provide your local neighborhood with round the clock mobile locksmith services that assist you in overcoming the daily challenges and frustrations relating to emergency locksmith situations.
Using your assistance and guidance, we ensure your safety will be restored in minimal time. This will allow you to return back to your residence, vehicle or business in a protective and safe manner.
conveniently located in Encino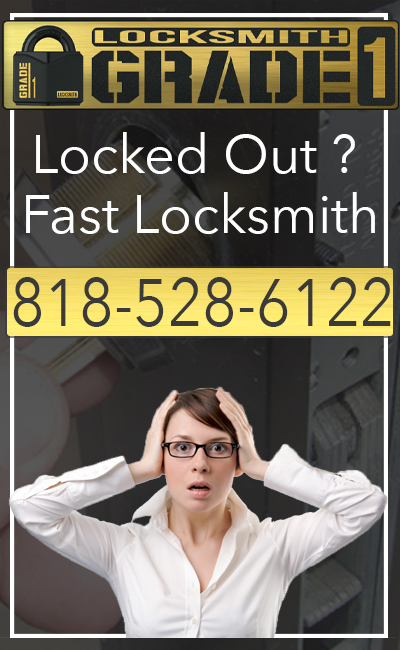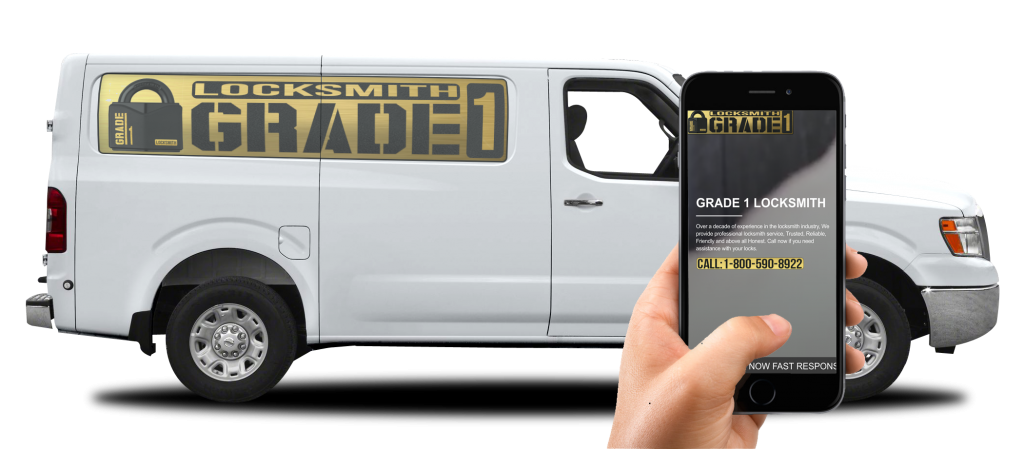 Frequently Asked Questions About Locksmith Service
How much should a locksmith cost ?
Although the service of a locksmith or any other service is usually not offered as a fixed price the average price to call a professional locksmith ranges anywhere between $95 – $225 depends on the situation. Although this price usually does not include parts. 
Can A Locksmith Make A Car Key ?
Most locksmith have the ability to make car keys, However not all locksmith can make keys for all the cars on the road. sometimes if there there are sophisticated car keys that requires special diagnostic tools and procedures a locksmith may not be able to make that key. Not all locksmiths make car keys but the majority of locksmith companies do offer car key services.
Can A Locksmith Open A House Door ?
Locksmith are trained to open all types of locks, usually they carry special tools such as pick tools and other equipment to help them bypass the lock. Most of the times the locksmith will try to "pick" the lock using special pick tools and that way he can open the lock without damage however this may not always be the case and sometimes the locksmith will have to drill the lock to open it.
Fast Lockout Service Encino